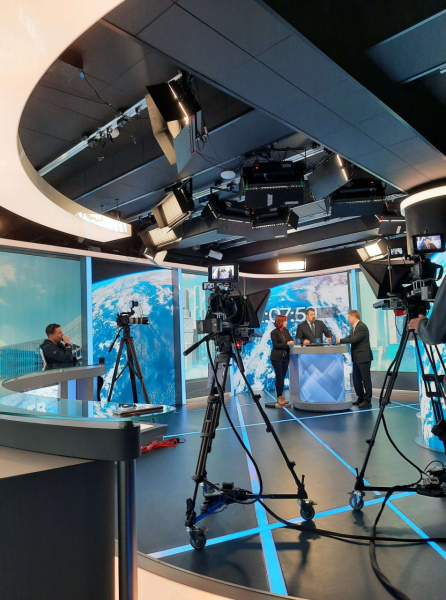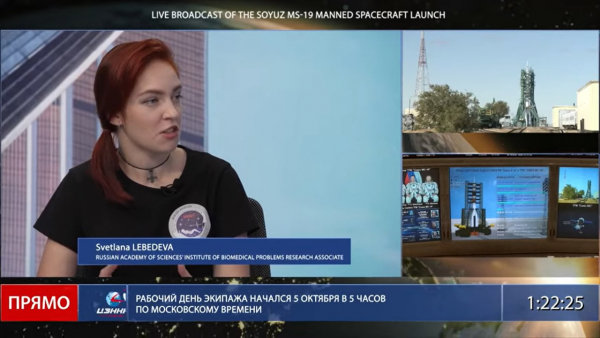 As you know
,
February 25
 marks thirty years since creating the
Russian Space Agency under the Government of the Russian Federation
. At the Roscosmos TV Studio, representatives of the
V.A. Trapeznikov Institute of Control Science of the Russian Academy of Sciences
took part in discussing debatable issues of fundamental and applied research of advanced robotics in the aerospace industry, as well as popularizing progressive ideas and understanding the realities of space exploration in the foreseeable future.
The illustration of the press release shows an episode of the workflow in the TV studio [Roman V. Meshcheryakov — head of our Moscow—wide seminar, Svetlana A. Lebedeva (clinical psychologist of the department of psychophysiology, neurophysiology, and psychophysiology of the operator of the IBMP RAS), Aleksei V. Rozhnov — scientific secretary of the seminar, Sergey A. Tyurin (correspondence graduate student) and many others], a fragment of Sergey's interview with Svetlana from the previous story "Women and Space"; — expect updates on the new the plot soon.
---
---
See also in the continuation of the plot (in Russian):
---
Youtube has started blocking media channels that cover the position of our state. In this regard, the previously provided link on this page has become unavailable (even though the message was about achievements in science and technology [https://youtu.be/iTdHD-BlUUI]). We are working on this issue. In the future, alternative ways of providing information about the popularization of science will be used.
---
The Proton-M rocket is sent to Baikonur to launch the station to Mars:
https://www.youtube.com/watch?v=M10kv_VD8us&t=963s
---
---
Send your suggestions to the seminar chairman with the readiness to speak at the seminar!
Chairman of the seminar 
Roman V. Meshcheryakov
,
Scientific Secretary 
Aleksei V. Rozhnov
Дата:
25.02.2022 -

09:30

to

11:45